As Wildfire Studios, for many years we made a thriving business of developing computer pinball simulations.
It all started with the classic Balls of Steel, and from its success we continued to attract work, releasing some 16 pinball tables from 1997 through to 2004, and licensing our engine for many more.
Balls of Steel
In 1995, fresh out of university, friends Darren Baker, Joel Finch and Stephen Atkinson started Wildfire Studios.
Huge pinball fans, we'd put together a demo table Space Patrol, which had beautiful SVGA 60fps scrolling graphics, a slick animated dotpanel… and nothing much else.
Nevertheless we pitched it to Scott Miller and George Broussard at Apogee Software, and they enthusiastically signed us up to develop a 5 table pinball game Balls of Steel. We even got a decent advance on royalties!
It was a labour of love for over two years. Our little team had to build our own software renderer, physics engine and tools, not to mention the game itself. Before switching from DOS to Windows late in development, we'd even implemented custom drivers for over 25 different SuperVGA chipsets. Talk about dedication…
Balls of Steel is easily one of the most entertaining and attractively rendered pinball games ever developed for the home computer.
Balls of Steel is a champion in its own right, combining photo-realistic graphics and state-of-the-art special effects with smooth, utterly absorbing gameplay.
Balls of Steel is a winner…one of the most addictive pinball games ever concocted, providing countless hours of engrossing gameplay at a reasonable price.
Publishers

Apogee / 3D Realms (as Pinball Wizards)
GT Interactive

Platform

PC

Tech

In-house pinball engine, Watcom C++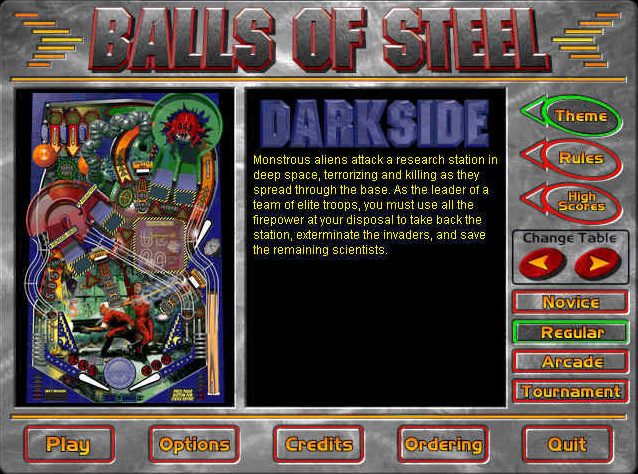 Devil's Island Pinball
Originally planned to be part of Balls of Steel, Devil's Island Pinball was put on hold when 3D Realms offered us Duke Nukem 3D. (Initially sceptical, we played the beta version of Duke and were immediately: "yes please!")
Devil's Island was published by Expert Software as a boxed retail release.
We later sold the game online, both self-published and on RealArcade.
KISS Pinball
Take 2 approached us in 2000 to design and develop KISS Pinball for PC.
Joel and Stephen had left the company by this time, and Adrian Cook had come on board.
KISS Pinball features two tables of high energy, rockin' silver ball action. And Gene's tongue naturally features as a ball-licking ramp…!
The game was commercially very successful, selling well over 300,000 units worldwide, in multiple languages.
Austin Powers Pinball
Following the success of KISS Pinball, Take 2 hired us to develop Austin Powers Pinball, again for PC. This time we handled the PlayStation development ourselves.
This was a fun IP to work with!
Patriotic Pinball
Our final pinball game for Take 2, and this time an original IP, Patriotic Pinball was conceived as an inspiring antidote to the tragedies of 9/11.
It features two tables: Road Trip USA and America on Duty.
This was a PlayStation-only release, for which we upgraded our old faithful 2D pinball engine to pre-rendered 3D.
It was curious being an Australian team working on a game entirely about the USA but it's not hard to understand the the pride the people have for their country, its achievements, and its rich history.
Dirt Track Racing Pinball
Ratbag Games hired us to develop twin-table Dirt Track Racing Pinball based on their successful series of Dirt Track Racing PC games.
The game was published at retail worldwide by Infogrames.
Another fun IP to work on, with lots of high-octane action that translated very well to pinball.
The timeline was tight on this game but we were able to ship on time and on budget.
Jungle Rumble Pinball
In 2004 Asylum Entertainment in the UK approached us to build Jungle Rumble Pinball for their client EssNet in Sweden.
It's a kiosk-based, pay-for-play, redemption style game.
We designed and developed the game based on concept art provided by Asylum.
Jungle Rumble Pinball marked a radical shift in our pinball games to full realtime 3D, using our internally developed 3D and physics engines.