There's a battle in the backyard and only you can save the day!
The peaceful Tumblebugs are being taken prisoner by the evil Black Bugs to be used as slaves for the spreading Black Bug Empire!
Save your beetle buddies in this addictive fast-paced action puzzle game.
Amazing 3D graphics give you a bugs-eye view of the backyard microcosm!
Face your greatest challenge — fight to free your friends across 78 addictive levels, and defeat the Black Bug King and his inexorable minions.
Great fun for all ages!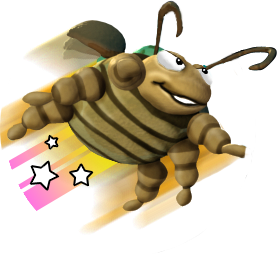 Buy Tumblebugs Remastered for Windows
– Direct from the developers –
Fill in the widget below to immediately purchase and download Tumblebugs Remastered for Windows.
DRM-free and yours to own forever.
Don't miss playing the worldwide chart topper that's had over 50 million downloads!

You'll never know what Tumblebugs has done for me.
Tumblebugs is my "go to" when I'm stressed, worried, depressed or just need time to think.
My morning ritual is get a cup of coffee and play a round (or two) of Tumblebugs. My family knows where to find me – in my room on my laptop playing Tumblebugs.
I just thought you should know what a blessing this game has been for me. Thank you so much for creating this game.
Hello! I've really enjoyed Tumblebugs in the past and would really enjoy to have it today again, I'm so pleased to see that you've brought it back to life! … Keep doing great work, I'd really really really like to see a Tumblebugs 3 or similar someday!
Frequently Asked Questions
What's new in Tumblebugs Remastered?
We've been over all the graphics, music, sound effects and code and given everything the polish treatment!
The graphics have been upgraded to HD resolution with full fidelity.
All the sound effects are CD quality.
The music is now stereo CD quality.
And we've optimised performance so gameplay is smoother than ever, fixed compatibility with Windows 10, added support for widescreen monitors, and made many more behind the scenes changes that make a great game even better. 🙂
Can I buy Tumblebugs Remastered anywhere else?
No, it's only available here, and on our original site wildfire.com.au.
You can still buy the original Tumblebugs from our partners such as Big Fish Games, GameHouse, and iWin, but you'll be missing out on the latest premium experience, and it won't be DRM-free.
Will you refund me if the game doesn't work?
Yes, absolutely.  If you buy the game and it doesn't work or you're not happy with it for any reason, let us know and we'll cheerfully refund you.
Can I purchase Tumblebugs Remastered on a CD as a backup?
No, the game is only available as a download.  However you are welcome to backup the installer to CD or flash drive.
You can also download the installer again if needed.
Is there a Mac version?
Not at the moment. The original Mac version of Tumblebugs isn't compatible with the latest OS-X.
We're working on a Mac version of Tumblebugs Remastered. Join our mailing list and we'll let you know when it's ready.
What happened to the iOS version?
The iOS version didn't survive the 32 bit App Store purge :/  It needs to be updated for the latest iOS and devices.  We'd love to see the game out for mobile and tablet again.  Drop us a line if you agree!
Are you making a Tumblebugs 3?
We'd love to! Send us a message if you'd like to see it. With enough support it might be possible.
I bought the game and I'm seeing "Couldn't init physfs" at startup
This was caused by a recent Windows update.
We've fixed the problem – please download and install the game again. (Don't worry, you won't lose your saved games!)
See your original purchase receipt email for download instructions.  If you're still having trouble, please send us a message.
Grab your copy of Tumblebugs Remastered now
Experience the game that spent over 20 weeks in the top 10!
It's great fun, and great value. Many happy players have been hooked for years, coming back again and again to relax, unwind, beat their high scores, or just escape for a while into another world.
Get your copy today. You won't be disappointed.
Data submitted by this form will be used solely by Double Dash Interactive.